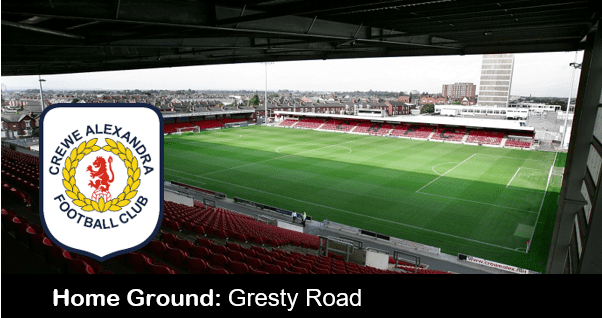 Academy Ground:                                                Alexandra Park, Wettenhall Road, Reaseheath, Nantwich, Cheshire, CW5 6DF.
Academy Director/Manager:                             Alex Morris – Under-23's coach 
First Team Players:                                              Crewe Alexandra First Team                                          
Academy Team Players:                                      Crewe Alexandra Under-18's                                                               
Ladies Team Players:                                            Crewe Alexandra Ladies team

The Crewe Academy:
After seeing that the side play in league two it can deter young players from joining the club, however Crewe's academy system is one of the best in the country, making them on of the few sides to have a category 2 status. The side cover a number of age groups and both genders are able to play for the club thanks to crewe's ladies team being introduced very recently. This has opened up a door of opportunity for young players in the area of Crewe who are looking to break into a professional football. as there is a lot of competition in today's game, Crewe are looking for players that are ready to play at the highest level and so encourage kids and young adults to already be part of an academy system such as FootieBugs, this is so that they understand how to cope with the pressure in the modern game. 
Academy Status: Crewe is a category 2 status academy
Crewe Academy Staff:
| | |
| --- | --- |
| Lee Bell is the current under-18's manager at the club and similarly brings a wealth of knowledge and playing time to his role at the club. Bell has been promoted with 3 different clubs, and takes pride in the fact that he had a part to play in some of his old clubs success. As someone who is new to the world of coaching, he is already having a positive effect on Crewe form which is good to see. |   |
| Michael Jackson the Under-18's assistant coach is has a lot of experience in lower league football himself after having a long and impressive senior career with over 500 appearances, he has shown throughout his playing career that he can impress his manager in training and will want his players to do the exact same. |   |

How to get noticed by a scout
Generally, premier league clubs are closely following open trials as a way of pinpointing the newest talent, as well as having a vast network of scouts across the UK. Scouts are often preferential over structured leagues or with players of a high standard, playing together. This is one thing that FootieBugs academy can offer through our weekly training sessions and games against local teams managed by professional coaches. Because we cover a range of age groups at U6's-U14's we have a high demand for young upcoming talent and receive frequent scouts visiting our training sessions and matches. Due to the professional coaches we have available that have all played at a high level, we are able to distinguish which players are leagues above in terms of skill and can refer them onto Premier League clubs.
"If you're good enough, generally they'll find you."
Crewe Academy Scouting System:
After a scout has seen a player, they will usually contact them and invite them to a trial day, otherwise the more common method of finding talents from all over are through football trial days and football camps. FootieBugs goes the extra mile in making your job easier as a parent and a young footballer. With our focused training sessions, the FootieBugs Academy will try it's best to match your ability with a club who will nurture your talent . We will shape a football player into a footballer, by working on improving the child's overall game and their image to scouts at Premier League Clubs.
This is where the FootieBugs Academy thrives, not only will FootieBugs look to put players forward to Crewe when they feel they are ready, but FootieBugs will also ensure Crewe will be fully aware of what training each player will have received from the FootieBugs Academy and why the player has shown enough (Footballing skill as well as dedication and attitude) to be worthy of a trial.
If you feel your child shows promise and would like us to help them reach the level for us to recommend them to the Crewe scouting network then please complete the following form:
Crewe Academy trials
As you can imagine, a large number of young football players would like to join the Crewe Academy set up and with clubs like Crewe receiving trial requests all the time it's very difficult to get noticed.
FootieBugs Academy believes that with correct training and dedication we can dramatically increase your chances of getting a trial with the Crewe Academy.
Once a player reaches the standards that a club of Crewe's stature would expect then the FootieBugs team will do everything in its powers to introduce the player to the relevant Crewe scout. 
Find out more about the FootieBugs Academy
The FootieBugs Academy is an independent organization and not part of any specific football club. This allows us to offer an honest and fair view of any players' ability and suitability to join a professional Football Club. Although we will do everything in our power to help young players develop, we are unable to guarantee every player a trial. If you are looking for official club information then please visit the club's official website as we can-not guarantee that all information is correct and up to date at the time of reading.