Welcome to FootieBugs Chester!
FootieBugs brings a professional children's football based activity to Chester, offering professional and engaging football coaching for all children! between the ages of three to eleven years!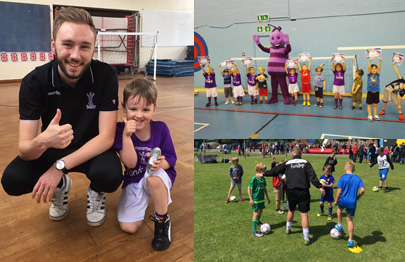 If you are based in the Chester and surrounding areas and want your child to engage in the world's number one sport, then feel free to come along to a FootieBugs Taster Session and see just how much fun football can be for your child.

CLASSES IN WINSFORD: (Starting 27th May 2016)

Friday's at 3.45pm for 3-5 year olds
Friday's at 4.30pm for 5-7 year olds

LOCATION:
Winsford Lifestyle Centre,The Drumber, Winsford

CW7 1AD
CLASSES IN CHESTER:
Saturday's at 9 am – 9.45am for 3-5 year olds
Saturday's at 10 am – 11 am for 5-7 year olds
Saturday's at 11am – 11.45am for 3-5 year olds

LOCATION:
The Catholic High School, Old Wrexham Road, Handbridge, Chester.
CH4 7HS

CLASSES IN ELLESMERE PORT:
Sundays at 9.30am – 10.15am for 3-5 year olds*
Sundays at 10.30am – 11.30am for 5-7 year olds*

LOCATION:
University Church of England Academy
, Whitby Road, Ellesmere Port, Cheshire. CH65 6EA
CLASSES IN DEESIDE: 


Saturday's at 9.30am – 10.15am for 3-5 year olds*
LOCATION:
Coleg Cambria (Deeside College) – Deeside Kelsterton Road, Connah's Quay, Deeside, Flintshire, CH5 4BR.
*Spaces available – contact us to arrange a Free Taster Session.


Please note: Whilst the classes for 3-5 year olds are 45 minutes long,




we advise you allow an hour for the session.




Contact FootieBugs Chester on: Tel: 0845 863 0687 Email: neil@footiebugs.com

"A great holiday camp! They have a great time and staff/coaches are so good with the kids too! Really recommend them!  Sharon Rattan, Parent of 5 year old Amar
"FootieBugs has been brilliant for Ben. He tends to lack confidence in physical activities and he has progressed brilliantly and gained so much from the classes."  Amanda, Parent
To book a FREE TASTER session or to book a FootieBugs Class, Contact us!