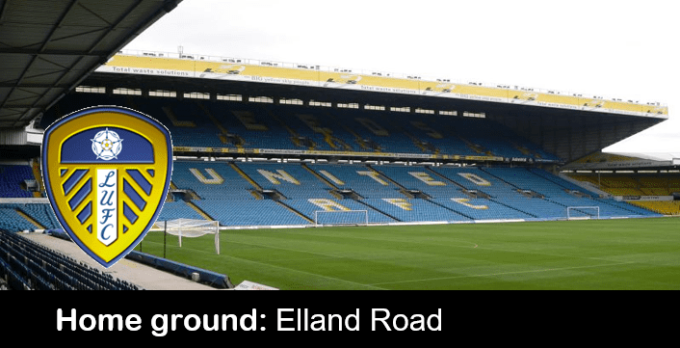 Academy Ground: Training Ground & Academy, Walton Road, Thorp Arch, Leeds, West Yorkshire, LS23 7BA
Academy Director/Manager:                                        Adam Underwood – Academy Manager
First Team Players:                                                       Leeds United First Team 
Academy Team Players:                                                Leeds United Academy
Ladies Team Players:                                                      Leeds United Ladies Team

The Leeds United Academy:
Leeds United have always been a top team for the reason that they can shape great players from the academy at the drop of a hat. In the golden era of football, the Leeds side were a top flight team and had the pleasure of having a great mix of players throughout their first team. At their height, they had players like Aaron Lennon, Jonathon Woodgate, Paul Robinson who all went on feature in the national squad and had very strong careers. 
But what about Leeds' more recent success
Even if we skip forward to today's game, there are some fantastic example of footballers that have really grown from the club's academy are players like Tom Cairney who was sold to Fulham FC for £15 million after just starting out from playing his football at their academy. Just last month, there have been 8 new youth players that have signed professional contracts with the club after impressing at the open trials, their details can be found out on the clubs website. 
At FootieBugs we are here to show young players that in order to make it on the big stage, there are more routes that you can take then contacting a club directly. This is why our academy  
Academy Status: Leeds are a category 2 status academy
Academy Staff:
| | |
| --- | --- |
| Carlos Corberan, the development coach at the side has been all around Europe gaining valuable experience. Corberan has worked at Al-Ittihad after Pep Guardiola had suggested him to the main coach Raul Caneda at the time. This put Corberan on the scene of coaching and suddenly he was being noticed for his good work in football before moving to Leeds United in 2017 where he has stayed ever since.   | |
| Mark Jackson the Head coach of the Under-18's squad after working hard to get a name in non-league football. In his most recent season, his Leeds side has won silverware in the Professional Development Northern League and he is well on his way to finding talents akin to past legends of the club such as Rio Ferdinand, Alan Smith, James Milner etc. | |

How to get noticed by a scout
Generally, premier league clubs are closely following open trials as a way of pinpointing the newest talent, as well as having a vast network of scouts across the UK. Scouts are often preferential over structured leagues or with players of a high standard, playing together. This is one thing that FootieBugs academy can offer through our weekly training sessions and games against local teams managed by professional coaches. Because we cover a range of age groups at U6's-U14's we have a high demand for young upcoming talent and receive frequent scouts visiting our training sessions and matches. Due to the professional coaches we have available that have all played at a high level, we are able to distinguish which players are leagues above in terms of skill and can refer them onto Premier League clubs.
"If you're good enough, generally they'll find you."
Leeds Academy Scouting System:
After a scout has seen a player, they will usually contact them and invite them to a trial day, otherwise the more common method of finding talents from all over are through football trial days and football camps. FootieBugs goes the extra mile in making your job easier as a parent and a young footballer. With our focused training sessions, the FootieBugs Academy will try it's best to match your ability with a club who will nurture your talent . We will shape a football player into a footballer, by working on improving the child's overall game and their image to scouts at Premier League Clubs.
This is where the FootieBugs Academy thrives, not only will FootieBugs look to put players forward to Leeds when they feel they are ready, but FootieBugs will also ensure Leeds will be fully aware of what training each player will have received from the FootieBugs Academy and why the player has shown enough (Footballing skill as well as dedication and attitude) to be worthy of a trial.
If you feel your child shows promise and would like us to help them reach the level for us to recommend them to the Leeds scouting network then please complete the following form:
Leeds United Academy trials
As you can imagine, a large number of young football players would like to join the Leeds Academy set up and with clubs like Leeds receiving trial requests all the time it's very difficult to get noticed.
FootieBugs Academy believes that with correct training and dedication we can dramatically increase your chances of getting a trial with Leeds Academy.
Once a player reaches the standards that a club of Leeds' stature would expect then the FootieBugs team will do everything in its powers to introduce the player to the relevant Leeds scout. 
Find out more about the FootieBugs Academy
The FootieBugs Academy is an independent organization and not part of any specific football club. This allows us to offer an honest and fair view of any players' ability and suitability to join a professional Football Club. Although we will do everything in our power to help young players develop, we are unable to guarantee every player a trial. If you are looking for official club information then please visit the club's official website as we can-not guarantee that all information is correct and up to date at the time of reading.