Our Children's Football Development and Activity Programmes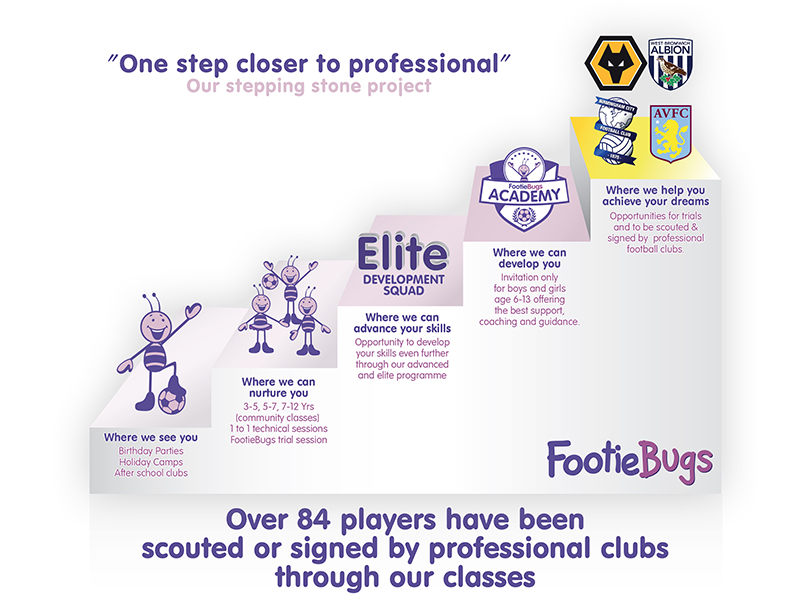 FootieBugs through its children's football development programme aims to introduce children to the fun, healthy and exciting world of football. As a sport that incorporates constant movement, aerobic exercise, balance and eye to foot coordination, as well as healthy social interaction, it is an ideal activity to promote all round physical development in early childhood.
Unlike other children's activities, FootieBugs offers more than just football for kids, we pride ourselves on helping to educate and support parents/carers into the importance of healthy living and exercise.
Footie

Bugs offers professional and fun football for kids aged 

3-5

,
5-7

and 7-11 years, as well as

Birthday Parties

and

Holiday Camps

.

By offering diet and nutritional information plus fun and easy exercises that can be done at home.Through the medium of football related fun games and stories we have created a progressive football curriculum for children aged 3 – 11 which introduces the sport and develops age appropriate skills. Our philosophy and methodologies are based on cutting edge educational principles of how children learn techniques and develop them into skills whilst having a fantastic time!

Although we have close connections with Premiership football clubs and international players, FootieBugs believes that even if a child does not wish to pursue a career in football, learning how to behave in certain situations, having good manners, learning respect for others and following instructions and rules, prepares them for future life.All a child needs to join our exciting programme is a pair of trainers and plenty of energy and enthusiasm.

Footie
Bugs
Programmes
Programmes are typically 8-10 weeks in length and range from 45 minutes for the youngest to 60 minutes for the oldest. Classes are structured to build from individualised learning (ball each) to
small group activities (shared ball, cooperation and/or teamwork) to conditioned games. Of course each class varies in structure according to the ages of the children.
Please check the specific programme on the website for further information. Classes are conducted all year round – both outdoors and indoors.
FootieBugs programmes are designed around our philosophy of how children learn and develop. Certain learning outcomes are integral to all programmes, regardless of age. Other outcomes are age specific and are part of our overall theory of progressive, structured learning.
All

Footie

Bugs

–

Common Learning Outcome
Socialisation – a key element
Confidence building
Holistic educational approach incorporating numbers, colours etc.
Maximum activity and ball contact
ABC's of athleticism – agility, balance and co-ordination
Learn and improve skills
Challenge each child relative to their own ability
Promote parent/carer participation.
Future Stars
Although we can't guarantee that every FootieBugs will end up playing in the premiership, we can certainly promise to point them in the right direction. Given our close relationships with all the top premiership clubs we can ensure that once your child starts showing real potential it's only a matter of time before they are noticed by the big clubs. FootieBugs is only the beginning.

To ensure parents are aware of their child's progress, we run a level system whereby children develop essential football skills and work their way through the levels. Click here to view the full breakdown of our level system.