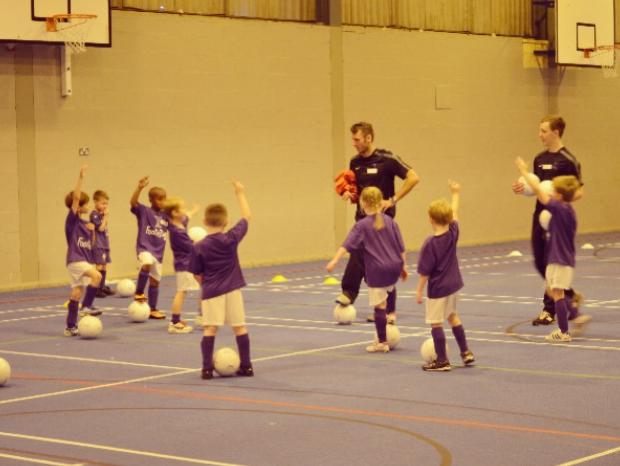 How many hours a day does your child / players practise?
The greatest athletes, entrepreneurs & musicians emerge only after spending at least three hours a day for a decade mastering their chosen field.  With this in mind how many  hours per day do you /your child/ your players practise?
Sir Bobby Charlton said that England won the 1966 World Cup through growing up and playing street football every day and being allowed to play football at every break through school . But street football has gone and now most primary schools don't allow children to play football at play time as it's too rough and they take over the playground.  When was the last time you allowed your child to play football on the street? People blame computer games  and the internet but other factors such as increased traffic, stranger danger and no ball game signs add to the problems.  So where do our players go to get the practise they need? As I coach I have always said that we don't have enough contact time with our players in this country.
I coach children in the youth system but the way the majority of clubs implement their youth system they shouldn't even bother.  Training once a week with parents as the coaches you will see the education programme and players suffer as result.  It is not just the clubs, parents need educating as well.
I know parents look at a number of factors before deciding what school their child goes to.  A school that will provide a good education, develop their child in a healthy environment with good facilities and a good curriculum.  So why do we not do the same with our child's football club?
The majority of parents think their child is at a 'big club' when they train once a week, maybe twice and play a match and they receive 2-3 hours total practise a week.  Can you see where I am going with this?  With this in mind we are now seeing a picture as to why we can't produce good technical players that are confident on the ball?  This leads me on nicely to the 10,000 hours theory.
We have all heard the saying that practice makes perfect. Now a top sociologist has added weight to this age old adage by claiming that you must spend 10,000 hours honing your skills if you want to be a success at anything. Academic Macolm Gladwell, says you need to put in this time over a decade to get to the top of your chosen field. He backs up his theory by citing sports stars such as Boris Becker, Jonny Wilkinson, Tiger Woods, Lionel Messi and the Venus sisters, who have all become world-beaters because of the obsessive devotion they have shown to their game since childhood.
In his new book Outliers: The Story of Success, Maclom Gladwell says that if you examine the greatest athletes, entrepreneurs, musicians and scientists you will notice they only emerged after spending at least three hours a day for ten years practicing. 'What's really interesting about this 10,000-hour rule is that it applies virtually everywhere."  Top football players such Ronaldo and Messi have said they used to train up to 5 hours a day and practise over and over as a child.
We have to ask ourselves as coaches (& parents) is my child/players getting the practise he/she needs at a one hour football coaching  session and a game at the weekend?
The 10,000 hour suggest that you need to practise a specific task that can be accomplished with 20 hours of work a week for 10 years.  Along with passion, ambition & determination (this can be applied to any professional field) you'll need to…….
 Find your passion.  Ask yourself what do you absolutely enjoy doing.  Discover what you love to do that makes time fly.
10,000 hours is about 3 hours a day over 10 years.  Although 10 years may seem a long time, but that is why the first step is so important.  Spending this kind of time on your passion will not feel like work nor will it feel like 10 years.
Make adjustments to your 10,000 hour schedule.  Add additional hours when you have free time (likewise rest around games)
If it happens sooner, then that is great, but don't be discouraged if it takes longer.  A great recent example is Ricky Lambert.  He was released by Liverpool when he was 15, then he went to lower leagues playing for the like of Rochdale and Stockport County, now he is playing in the Premiership & on the 8th August 2013 at 31 he won his first England cap and scored on his debut.
Although one thing to keep a close eye on is the actual work you do in those hours…how many times is your child, or player, touching the ball?  I have been conducting a study that may unearth a few surprises.  I will bring you my findings soon.  If your child is only training once weekly & simply playing a game at the end of the week you are in for a real shock.  The results could easily suggest why so many children don't develop to the initial early promise and talent they  may possess.
Written by: Rachel Gibson