FootieBugs Camp locations:
To Register and Book on our Camps please click the button below which will take you through our easy and safe booking system:
(Please understand our camps do have a maximum capacity and we operate on first come first served basis so please book quickly to avoid disappointment)
Our camps are full of
FUN
games and
ACTIVITIES 
including the cross bar challenge, 1v1 attacking, penalty shoot out and many more. At our camps we make sure children are learning and enhancing specific football skills, such as striking of the ball, passing and receiving, movement along with developing step over, rainbow flicks, around the world tradition Ronaldo and Messi skills.
FootieBugs offers your child an action packed, FUN week of football during the school holidays. Our camps help to develop their core football skills and take on new challenges, all while having loads of FUN and meeting new friends.
Bugs offers a safe and fun camp for children from 5-11 years throughout all school holidays!
And to make the camp even more
EXCITING 
for your child, each camp will end with a Mini World Cup day where all the children will be put into teams and compete to be the winning team. Children will showcase the skills they have learnt during the week of the camp.
All children will receive a Footie

Bugs 

certificate and medal at the end of the week, there will be mini competitions throughout the day where children can win prizes and the winning team will receive a mini trophy!!
For Parents:
Here at 
Footie

Bugs
, we understand that is not just about the children and you need to feel that they are safe, enjoying themselves and learning new important skills along the way.
We want to put your mind at ease with the below image of what our staff are qualified to do: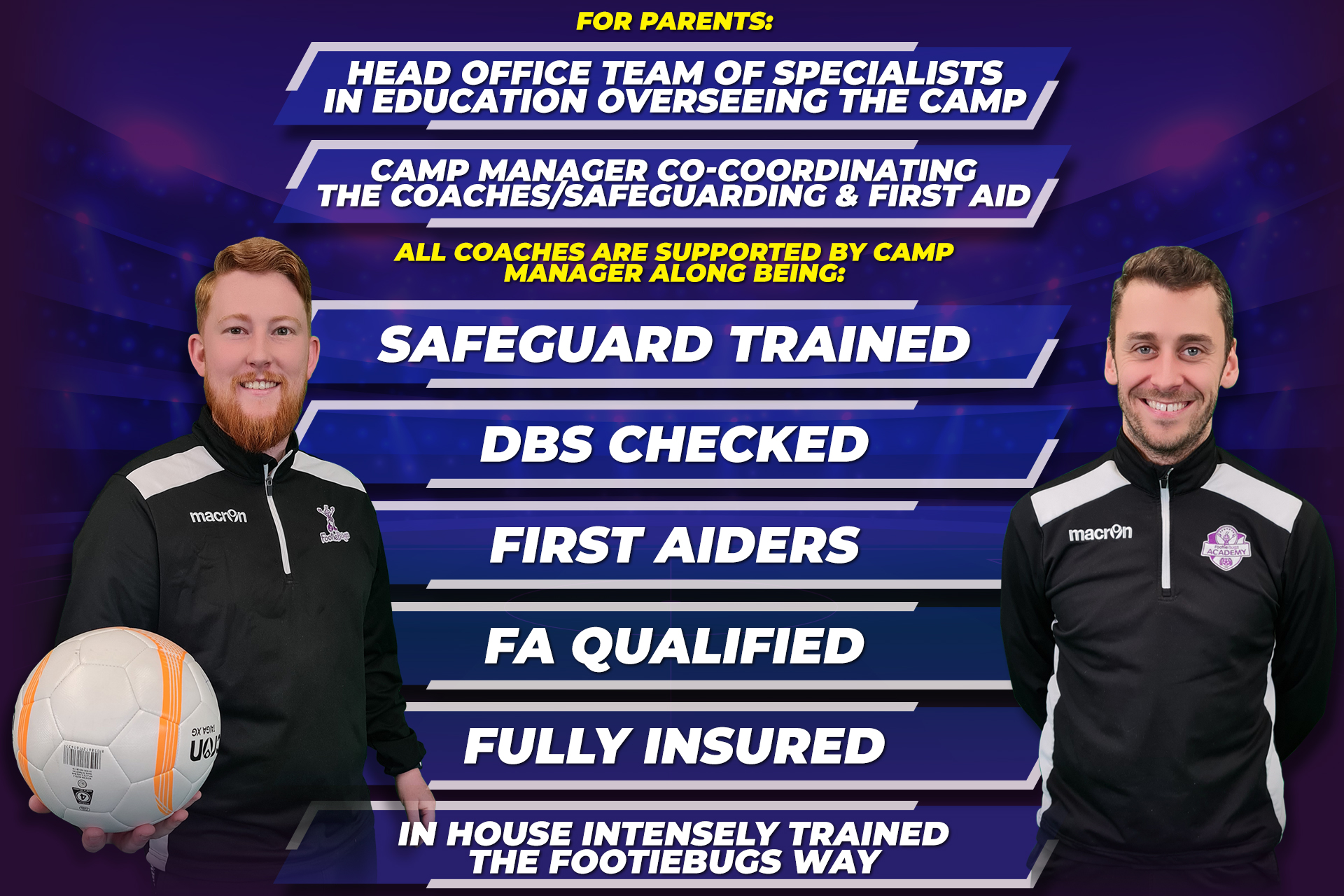 All of our coaches have been working in schools and the community throughout the year and their goal is to create an enjoyable experience for all of the children attending the camp, encouraging them all to reach their full potential and have FUN at the same time.
For parents that need a bit more extra time – you won't be disappointed, as also available is the full flexibility of our camp with extended hours, for working parents.
The important question every parents needs to ask is price. Our research has found that we are the best priced in the areas where our camps are located. We also offer an early bird price at every camp, which always closes 3 weeks before the camp is due to start.
Once you attend our camp for the first time you will be given one of our Camp Loyalty cards with 10 Blank Days on. Each morning you attend our camp and our Camp Manager will provide a Bugs Sticker for that Day.
Reward:
After your child have attended 10 times they will receive a free day at our camp!