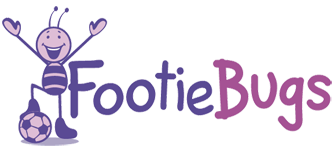 FootieBugs children's football training for 5-7 years focus on more advanced football skills whilst encouraging social independence. 
FootieBugs for 5-7 years learn in a professional, fun and knowledgeable environment. All of our classes are taught by ex-professional footballers who can pass on their priceless knowledge. Children will learn to advance their skills at their own pace, with help and guidance from our professional coaches. In our children's football classes, children are taught different themes each week including possession, dribbling, control, awareness, 1v1 attacking and defending, to allow children to have an experience in all sectors of football and advance their overall knowledge of the game.  
All children attending FootieBugs FootieBugs classes and camp have the opportunity to be scouted for our Elite Development squad and Professional Academy for U7s – U12s.

Progressive Learning Outcomes for 5-7 years:
 Well structured and fun
 Fun Football for kids
 Balance between co-operative and competitive games
 Introduction to games with clear rules
 Introduction to mini  games
 Minimal on-site parental involvement in games
All FootieBugs programmes:
Are for both boys and girls
Provide an ideal introduction to football fundamentals
Have classes and coach ratios – consistent with childcare standards and guidelines
Prepare children for organised sport disciplines and routines
Challenge each child relative to their ability rather than against blindly elitist standards
Introduce children to vital social skill development experiences and team sport concepts
Operate in a nurturing, supportive, warm, caring and non-threatening manner
Involve the use of safe, child friendly equipment
To ensure parents are aware of their child's progress, we run a level system whereby children develop essential football skills and work their way through the levels. Click here to view the full breakdown of our level system!